CH Pom Galaxy Cappuccino FCAT (Cappie)
CH Pom Galaxy Cappuccino FCAT (Cappie)
1st in Stud Dog at 2022 APC Nationals
AKC Fast Cat Title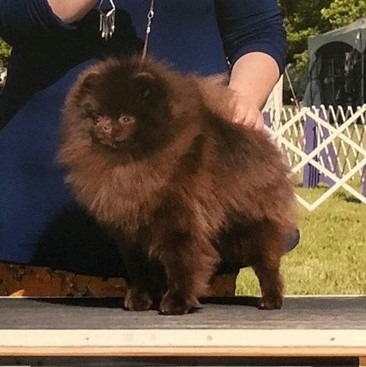 Sex:

Male

Date of Birth:

January 19th, 2017
Color:

Chocolate

Breeder:

Marina Churikova
Cappie is my first show dog and is a very serious dog - he makes sure everyone in the house, is in line, all the time. When he is working (showing), you know it. He has a keen concept of getting whatever his job is at the moment, done. On the other hand, he is the most squishy, melty boy in his human's arms, he loves to cuddle and get belly rubs. Cappie carries a beautful, heavy coat, in correct, harsh texture. Cappie continues to be an excellent producer here at CCP, and I have serveral of his children and grandchildren.
Championship earned in April 2019. FCAT title earned in December 2020
Cappie is the first pomeranian champion to earn his DCAT and FCAT titles.
Cappie is a Russian import, from Pom Galaxy Kennels. Thank you Marina for sharing this beautiful boy.
Stud Fee: $1,000
0/0 Patellas, Normal Advanced Cardiac (Updated in 2021), CAER Normal
Show Record

| Date | Kennel Club | Win | Judge | Points |
| --- | --- | --- | --- | --- |
| 01/12/2019 | Greater Fredericksburg Kennel Club | Winners Dog | Ms. Lee Whittier | 2 |
| 02/02/20119 | Great Barrington Kennel Club, Inc. | Winners Dog | Mr. Gary L Doerge | 1 |
| 02/03/2019 | Great Barrington Kennel Club, Inc. | Best of Winners | Dr. Danial W Dowling | 3 (Major) |
| 02/22/2019 | Wallkill Kennel Club, Inc. | Best of Winners | Joan M Zielinski | 1 |
| 02/23/2019 | Rockland County Kennel Club, Inc. | Winners Dog | Dr. Gary Sparchu | 1 |
| 02/24/2019 | Rockland County Kennel Club, Inc. | Winners Dog | Mr. Richard W Powell | 2 |
| 03/21/2019 | Delaware Valley Toy Dog Fanciers Association | Best of Winners | Mr. Richard Todd Jackson | 1 |
| 03/22/2019 | New Brunswick Kennel Club, Inc. | Best of Winners | Douglas A Johnson | 1 |
| 03/23/2019 | New Brunswick Kennel Club, Inc. | Best of Winners | Ms. Betsy Dale | 2 |
| 03/24/2019 | Bronx County Kennel Club | Best of Winners | Mrs. Toby B Frisch | 1 |
| 04/14/2019 | Mason and Dixson Kennel Club | Winners Dog | Mr. Roger R Hartinger | 1 |
| 04/21/2019 | Baltimore County Kennel Club, Inc. | Winners Dog | Ms. Terri Lyddon | 4 (Major) |
| | Championship Points | | Total | 19 |