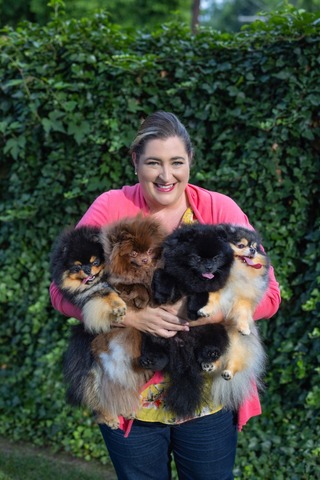 Hi, I am Annie and I'm the preservation breeder behind Charm City Poms located in Baltimore County, MD. Our poms are bred for health, temperament, and type.
Any puppies that I have will not be available until after they are fully vet checked and evaluated.This is for your protection - and allows me to give better insight to the puppy's temperament, size prediction and personality. I do not keep a waitlist. Applications for a puppy will be open after they are evaluated. Pomeranians are my hobby and passion, not a source of income for me. The highest bidder or first in line may not be the right home for a puppy. As carefully as I plan each breeding and care for each puppy and adult, I will be equally as careful placing any companion puppies in their perfect home. Maintaining contact with me and sending an email (charmcitypoms@icloud.com) about yourself, your lifestyle and being willing to wait for the perfect fit will be the best way to stay in the loop.
My breeding program is unique in our breed as I specialize in less traditional (AKC recognized) colors. I not only show my dogs, but all dogs are health tested in accordance with parent club recommendations, and the results are listed publically on the OFA website. I recently (2019) added Embark testing to my program, as well. I think that only breeding the healthiest Poms is important.
If you have any questions about my program or the breed, please feel free to reach out!